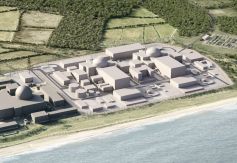 New finance model paves way for Sizewell C nuclear plant
The Government is overhauling the finance model to get the planned next generation of nuclear power station builds back on track.
Planned new laws will pave the way for consumers to part-fund projects through higher bills during construction rather than through much higher electricity strike prices once the plant becomes operational.
Government financing changes re-prime the Sizewell C project
The move is the latest stage in efforts to build the £20bn Sizewell C project in Suffolk and paves the way for next-generation small modular reactors.
The Government said the switch to a Thames Tideway-type financing system, where some of the project's construction and operating risks is shouldered earlier on by consumers, will significantly lower the cost of capital by substantially increasing the pool of private investors like British pension funds, insurers and other institutional investors.
It claims consumers will save more than £30bn from reduced financial risk costs over the lifetime of a new large-scale nuclear station like the planned Sizewell C.
The Nuclear Industry Association estimated it would add a small levy to bills of no more than a few pounds during the early phase of construction and less than £1 a month over the course of a project.
Full story: New finance model paves way for Sizewell C nuclear plant | Construction Enquirer News