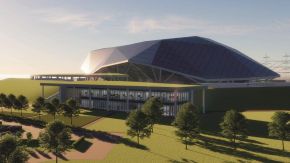 Rolls-Royce gets funding to develop mini nuclear reactors
Rolls-Royce has been backed by a consortium of private investors and the UK government to develop small nuclear reactors to generate cleaner energy.
The creation of the Rolls-Royce Small Modular Reactor (SMR) business was announced following a £195m cash injection from private firms and a £210m grant from the government.
It is hoped the new company could create up to 40,000 jobs by 2050.
However, critics say the focus should be on renewable power, not new nuclear.
Currently, about 21% of UK electricity generation comes from nuclear power.
Small modular reactors are nuclear fission reactors but are smaller than conventional ones.
The investment by Rolls-Royce Group, BNF Resources, Exelon Generation and the government will go towards developing Rolls-Royce's SMR design and take it through regulatory processes to assess whether it is suitable to be deployed in the UK.
It will also identify sites which will manufacture the reactors' parts and most of the venture's investment is expected to be focused in the north of the UK, where there is existing nuclear expertise.
Rolls-Royce's share price jumped by 4.2% to 147.85p each following the announcement.
Full Story: https://www.bbc.co.uk/news/bus...