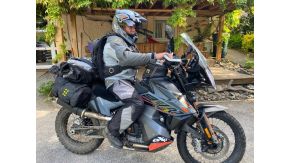 Acorn Founder Embarks on the Gibraltar Race 2022
Bruised, battered and completely exhausted isn't exactly everyone's idea of how to return after a few weeks away from work, but then Acorn Coaching & Development's Keith Longney knows exactly what he's letting himself in for and that the Gibraltar Race isn't going to be anything like your typical vacation.
"It's five years since I last took part in the Gibraltar Race and in that time I have just about managed to forget about all the mechanical break-downs, long tiring days, physical exertion and uncomfortable sleepless nights. Thankfully I can only remember the good stuff!"
For those not familiar with the Gibraltar Race (and that's most of us!), it is the creation of the guys at Moto Raid Experience in Saluzzo, Italy, who devise challenging multi-day, multi-stage motorbike adventure races in wilderness regions of Europe and North Africa.
Keith and friends will be tackling the PraRiPra Edition of the Gibraltar Race, with a route which winds through diverse geography and topography through countries including the Czech Republic, Poland, Lithuania and Latvia.
The riders will be crossing this stretch of Europe on predominantly off-road routes following just a GPX track with their navigation devices, with accommodation primarily being basic bivouacs and wild camping.
"The format of the race, in very simple terms, is akin to orienteering but on a much larger scale. And on motorbikes. And over 12 day-long stages." Says Keith. "So actually, not like orienteering at all!"
"Before the start of each stage, we [the riders] are provided with a list of numbered waypoints in a GPX file. These waypoints must be reached in the right order to complete the race route, and there are time penalties if any waypoints are missed. There is also a time limit for each stage, again with penalties if you finish outside of these."
Support for the riders is, as you can probably gather, somewhat limited with recovery of broken bikes being the provided as well as transfer of a modest amount of 'luggage' (change of clothes and a few personal possessions) between bivouacs.
"Primarily this is a self-supported adventure race, with riders required to be as independent and resourceful as needed." Adds Keith.
"The race in 2017 covered 8,000km in 14-days from Bulgaria to Gibraltar and took us through some beautiful countries including Macedonia, Albania, Italy, Spain and Portugal. We had our fair share of spills on some pretty rough terrain and the bikes took a hammering which saw some make-shift repairs along the way thanks to some incredibly helpful locals."
Keith has invested in a new bike for this year's race, a KTM 850 ADV-R, something which is a relief for wife Claire: "In 2017 he decided that my bike, a BMW GS800, was far better suited to the task than his own, so off he went with my pride and joy. I still don't think he's told me the full story of all the scrapes he put that bike through!"
Keith and his friends depart for the Czech Republic on 16th June, with the race starting from Prague on the Monday 19th before heading north to Poland and then Latvia including the capital, Riga, where the riders can enjoy a well-earned rest day after a week in the saddle.
The return leg takes in Vilnius in Lithuania and Lublin in Poland before (hopefully) arriving back in Prague on the 2nd of July.