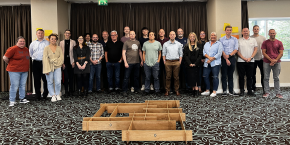 ACORN Update on the Nuclear Waste Services RACER Programme
We're at the end of the second year of Acorn's involvement in supporting the Repository Asset Care Enhancements and Remediation (RACER) programme for Nuclear Waste Services (NWS) and there's plenty of positive progress to report.

Hailed as a major programme on the LLW Repository site when launched in March 2022, the purpose for RACER was that of giving Nuclear Waste Services greater capacity to support current operations and future developments.

Acorn's appointment to the programme was to support collaboration between NWS and Jacobs which was identified as being key to the success of RACER.

There's still the best part of a year of Acorn's involvement with the RACER senior leadership and wider delivery teams ahead of us, but our work to date has already delivered tangible, positive results, as our client testifies:

"Our primary focus when launching RACER was establishing the team's common purpose, values, and individual and collective behaviours. Together with our supply-chain partner Jacobs, we reached out to Acorn Coaching & Development for support."

"I saw the results of a long journey of team building at the RACER team workshop – a common purpose, incredibly mature team integration, and a legacy of asset enhancements to show for it (the Grouting Facility 'best it has operated in 10 years'), with a laser-like focus on remaining tasks in the pipeline..."
- Director of Waste Operations & Sites at NWS

You can read our full update on the RACER programme here: https://acorncoaching.com/insi...