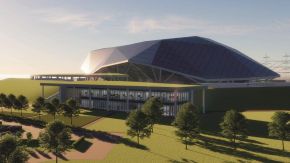 BECBC welcomes the news that Carlisle has been shortlisted for a RR-SMR factory.
In an announcement from RR-SMR today six areas have been shortlisted for a factory producing the vessels for the 470 Mwe pressurised water reactor. The six areas are: Carlisle in Cumbria, Sunderland in Tyne and Wear, Richmond in North Yorkshire, Deeside in Wales, Ferrybridge in Yorkshire and Stallingborough in Lincolnshire.
Over 100 submissions were made for the largest and most complex of the three factories needed by Rolls Royce to build their SMR. Dianne Richardson, Chief Exec of BECBC said "This was a hard fought competition to reach the shortlisted stage but it's no surprise that Cumbria, with it's strong capability in nuclear supply chain, has reached this stage. While Cumbria is often seen as a place to site SMR's we have always been clear that we should also be looking to attract the factories so our area benefits from the long-term social value this delivers on jobs and investment. Our BECBC members locally stand ready to support this investment if it is placed in Cumbria."
"I would like to thank everyone who sent in a submission suggesting locations in their region for the first Rolls-Royce SMR factory," said Rolls-Royce SMR CEO Tom Samson. "The response was fantastic and shows the ambition and appetite of the UK to build and operate a fleet of SMRs which will provide affordable, low-carbon electricity for generations to come."
"The final location will come from the shortlist and will result in significant investment, long-term high-skilled jobs and will support the UK government's aspirations for levelling-up. Today's announcement is another example of the pace of our project and why Rolls-Royce SMR is the UK's domestic nuclear energy champion." Construction will begin once Rolls-Royce SMR receives the go-ahead to build a fleet of SMRs in the UK.
Further factories manufacturing civils modules and mechanical electrical and plumbing modules will also be needed at a future date.
Approximately 90% of the manufacture and build of the Rolls Royce SMR will take place in factories then transported to site, this will reduce onsite disruption and support international roll out.