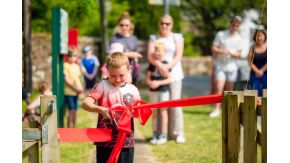 Beckermet play park in full swing following GDF funding
THE village play park in Beckermet has been transformed following a successful funding application to the Mid Copeland GDF Community Partnership.
Community Investment Funding of £84,838 was awarded to Beckermet with Thornhill Parish Council to revamp the play area with new equipment last year.
The work was completed earlier this year and an official opening was held last week to celebrate the new facility.
Parish Council Chair Julie Nugent said it was a fabulous day.
"It really has transformed the village, you rarely go past the play park now without a dozen children playing on it," she said.
"Children from other areas are also coming through to use it – it's brilliant."
A large piece of equipment had to be removed last year as it had fallen into disrepair after 22 years. As part of the new project, local children were involved in choosing their preferred equipment.
Officially opening the play park was Josh Park who said: "It's much better than our old play park and I now come here more often. I like the fact it has big swings but I like the slide the best!"
A Geological Disposal Facility (GDF) is an underground facility designed to safely and securely dispose of higher activity radioactive waste
As part of the GDF programme, £1million per year is available in local areas involved in the search for a suitable site and a community willing to host such a facility.
The Mid Copeland GDF Community Partnership is one of four areas currently involved in the process and it covers the electoral ward of Gosforth which includes Seascale, Gosforth, Beckermet, Calderbridge, Haile, Thornhill, Nethertown and Braystones. The Lake District National Park is excluded from consideration.
Deep geology beyond the coast is being considered for siting the underground elements of a GDF in Mid Copeland. This means a surface facility on, or near, the coast would provide access to a disposal area deep in rock beyond the coast.

The GDF programme is still in its early stages. A decision to develop a GDF could not be taken until the community in the electoral wards directly affected has had a say and taken a Test of Public Support
Downloads
Press release Beckermet play park transformed following GDF funding
File size: 46.497 KB