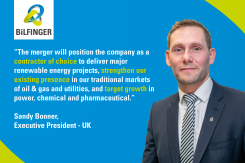 Bilfinger set to create €400m engineering and maintenance business following UK merger
Today we announced to our employees that on January 1, 2022 we will align our two UK entities, Bilfinger UK and Bilfinger Salamis UK, in turn becoming one of the largest engineering and maintenance contractors in the UK.

The new Bilfinger UK will employ more than 4,500 people with 14 onshore locations across the UK's key industrial hubs. Combining our onshore and offshore capabilities, we are ideally placed to deliver large renewable energy projects as the UK transitions to net-zero, whilst expanding the services and solutions we provide to customers in oil and gas, food and beverage, chemical, utilities and pharmaceutical markets.
Read more here: https://www.uk.bilfinger.com/m...