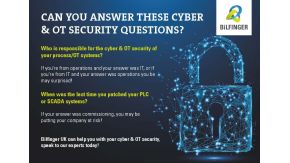 Bilfinger UK – We Make Cyber & OT Security Work!
From small discrete plant operations to large-scale disparate control of critical national infrastructure, Bilfinger UK are a trusted partner in the design, install and maintenance of cyber secure solutions throughout the industry.
We have IEC-62443 certification and trained engineers within our project and automation teams but also within our service support division. This means we can confidently support your plant operations, from consultation through to project execution and throughout your entire connected assets life cycle.
Find out more here: https://www.uk.bilfinger.com/s...