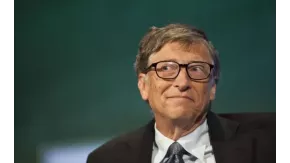 Bill Gates-backed nuclear contender Terra Power aims to build dozens of UK reactors
Bill Gates is the founder of clean energy specialist Terra Power which has designs on building small, modular reactors in the UK
A Bill Gates-backed clean energy player is hoping to build dozens of reactors in the UK, and will enter the race alongside potential rivals Rolls-Royce and GE Hitachi with its own mini-nuclear power plant designs.
Chris Levesque, chief executive of nuclear start-up Terra Power, confirmed the company will bid for government approval to build small modular reactors (SMRs) in the UK, with the competition being overseen by freshly launched industry vehicle GB Nuclear.
"I've met with quite a few industrial partners in the UK and we really see partnerships here that we can leverage as we scale up," he told The Sunday Times.
SMRs refer to scaled down nuclear power plants, typically assembled in stages at factories before being shipped to construction sites, reducing the cost and development time.
Levesque has suggested Terra's reactors could be built in shipyards as their assembly does not require heavy forging.
The government has announced a bidding competition through GB Nuclear with hopes of first generation from new plants the 2030s, a target Terra expects to meet.
"We think we could build dozens of reactors in the UK in the 2030s," Levesque said.