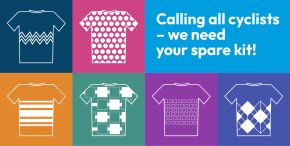 Calling all cyclists – we need your spare kit!
Keith and Claire Longney, directors of BECBC Member Acorn Coaching & Development, are heading to Africa at the end of October, specifically to Rwanda, where they have a busy few weeks scheduled.

Firstly, Keith will be taking part in the Rwandan Epic – a five day, five stage cross country mountain bike race which covers over 300km and 5,000m of ascent.

The event is the brainchild of two friends who discovered great trails in an amazing landscape, Rwanda-based Belgian Simon De Schutter and Matthew Brokenshire from England.
The competitors ride in pairs and Keith is teaming up with Rwandan athlete and former professional cyclist, Nathan Byukusenge, who is now the coach for the Olympic mountain bike youth and women's squads.
"It's a fact that people in remote areas of the country use cycling as a way to get themselves out of poverty." says Claire, "Nathan himself worked as a taxi-cyclist in the capital, Kigali, before progressing to being a professional cyclist and competing around the world."
"In 2015 Nathan became the first Rwandan to compete in the UCI World Mountain Bike Championships and in 2016 represented his country at the Olympic Games in Rio."
Although not competing herself, Claire will also be supporting the event by working as a race marshal on a number of the stages: "From the images and footage we've seen from last year's race, the event is really well attended with so many spectators, especially where it passes through some of the more remote areas – it's like entire villages come out to cheer them on!"
Send Your Spare Cycling Kit to Africa
Keith and Claire will also be taking second-hand cycling kit with them: "Competitive sport cycling is really growing in the country but there's also a real need for clothing and bike parts which are really difficult to get hold of in this part of Africa."
"If anyone has spare cycling kit in decent condition that they'd like to donate, then they can drop it off and we'll make sure it gets taken with us. Children's, men's, women's, used is fine but in good condition and, ideally, the men's kit in sizes small or medium."
"If you can get it to us at Acorn Coaching in Kendal by Wednesday 25th October then we'll sort it from there."
Kinamba Community Project
Aside from the Rwandan Epic, Claire and Keith will also be visiting The Kinamba Community Project in Kigala, an organisation they have supported for a number of years both directly and via the Cumbrian Overseas Aid Trust (COAT).
"We have sponsored one of their students, Josepha, since she was just seven years old and this will be the first time we've had a chance to meet her in person. We get regular updates from her but we're really excited to have the opportunity to finally say hello and find out more about her and the Kinamba Project."

Claire says that they will also be taking more clothes and sports kit for the children at the Kinamba Project.
_____________________________

If you'd like to contribute any spare cycling clothing or unwanted bike parts, or any children's sportswear, then Keith and Claire are happy to accept these and ensure they go to very appreciative recipients in Rwanda.

In the first instance, please email mail@acorncoaching.com with details of what you have to donate, from where Claire and Keith can arrange to either collect or have you drop-off at their offices in Kendal.