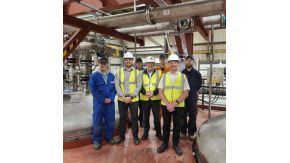 Carr's Engineering Ltd in Carlisle secures Sellafield contract
The Programme and Project Partners (PPP) at Sellafield announced its latest contract win for a Carlisle-based engineering company.
Carr's Engineering Ltd has won an £8.4m contract to deliver instrument cabinets and shielding blocks to one of Sellafield's new-build major infrastructure projects.
The equipment will be fabricated and supplied to the in-construction SIXEP Continuity Plant (SCP) project at Sellafield, before it is then installed by long-term supply chain partners Balfour Beatty Kilpatrick and Altrad Babcock, who were previously appointed to PPP, demonstrating the highly collaborative nature of the partnership.
Carr's Engineering is comprised of six companies which are all key players in the Sellafield supply chain. For PPP, this includes Bendall's Engineering Ltd who will lead on this new contract, having previously been tasked with providing a number of vital tanks and vessels to the same SCP project.
Sean Saunders, Managing Director of Carr's Engineering, said: "We are thrilled that Carr's Engineering has recently secured a major contract win with PPP. This latest achievement is a testament to the efforts of our entire team.
"It's also an acknowledgement of the high-quality products that we manufacture, and of the strong and collaborative relationship that we have built with PPP through the major projects the partnership is delivering at Sellafield. We are excited to have the opportunity to continue providing Sellafield and PPP with the highest quality of engineering design and manufacturing services."
Since mobilising in 2019, PPP has awarded more than £3 billion worth of contracts.
The partnership is now working with around 200 suppliers from across the UK, with 40% based in the north-west region. Almost 70% of its suppliers are SMEs.
Duncan Elliott, Head of PPP, added: "I am delighted that PPP is expanding our team with businesses like Carr's, who will help us as a partnership deliver Sellafield's mission. It's also great to see Cumbrian businesses like Carr's and Bendall's growing and diversifying, which reflects our commitment to long term social impact in the region."