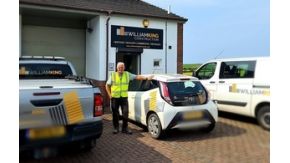 Cumbrian firm cements its future with £2.6 million Sellafield win
A family-run business is building for success after securing a £2.6 million contract with the Programme and Project Partners at Sellafield.
William King Construction, of Cleator Moor in West Cumbria will deliver masonry and internal fire door fit-out to the SIXEP Continuity Plant project on the Sellafield site.
It's a third major contract win at Sellafield for the family run business.
Although its foundations are in the housing and building trade, the company has successfully diversified into high hazard reduction in the nuclear industry.
And it's providing a blueprint for other small and medium sized enterprises (SMEs) to fine-tune their offering for a new and thriving sector.
Since mobilising in 2019, the Programme and Project Partners has awarded more than £3 billon worth of contracts.
The partnership is now working with around 200 suppliers from across the UK, with 40% based in the north-west region. Almost 70% of its suppliers are SMEs.
Will King, founder and managing of William King Construction Ltd, said:
My wife Lisa and I started the business from scratch in 2008.

We received a grant from the Cumbria Growth Hub after taking part in a week-long business course. We started out with a van and an apprentice!

For a local SME like ourselves, it's a privilege to win work on these important infrastructure projects at Sellafield.

With our ever-growing order book, and having secured work for the coming years, we're able to widen our recruitment to include low academic achievers, providing routes into rewarding employment.

The ultimate goal is to support individuals to enrol on an apprenticeship with the local college. We will continue to add to the team in readiness for future projects and contracts.
Peter Hogg, head of supply chain for the Programme and Project Partners, said:
We're pleased to home-grown companies like William King Construction win work on such important projects.

It is an integral part of the Programme and Project Partners model to expand our supply chain and cascade opportunities to the local economy, boosting employment in the region.

We are proud to be part of helping develop this Cumbrian SME and enhance recruitment opportunities in the area.
Luke Richardson, head of social impact for the Programme and Project Partners, said:
It's great to see yet another example of a local business working as part of our partnership.

The team at William King Construction offer a great apprenticeship scheme. They are also champions of local homelessness charity Calderwood House, working with residents of the hostel to secure employment.

Cumbrian firm cements its future with £2.6 million Sellafield win - GOV.UK (www.gov.uk)