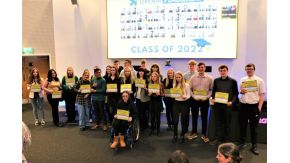 CUMBRIA'S AMBITIOUS TEENAGERS TAKE CENTRE STAGE AT DREAM PLACEMENT 2022 CELEBRATION
Cumbria businesses and young people celebrated the record-breaking success of Dream Placement 2022 with presentations from some of the 16-18 year olds who gained placements in the programme organised by the Centre for Leadership Performance.
A record 64 young people spent the February half-term week with almost 40 hosts ranging from multi-national companies and SMEs to charities and local authorities. They met CEOs and managing directors, apprentices and graduates to learn about leadership, career-paths and the huge range of opportunities available to young people in Cumbria.
Students, parents, representatives from companies and schools attended the event or joined via online video conferencing, and some of the Dream Placements shared their experiences through presentations to the audience or by videos made while embedded with the hosts.
The experiences of the young people included travelling to construction projects around the country, interacting with the elderly residents of a care home, discovering the inside story of an academic institution, or learning the detailed plans for underground storage of nuclear waste.
They also talked about the ways in which the whole Dream Placement experience including the inclusive application, selection and development process had boosted their confidence and helped fuel aspirations for future careers.
CforLP Executive Director Sarah Glass commented: "The tenth year of Dream Placement has been marked by more placements than ever before thanks to the support of businesses and organisations within the county. The programme is a truly collaborative effort and while companies have stepped up to offer the placements, our young people have also risen to the challenge by making the most of these unique opportunities.
"The showcase also enables students to feedback on projects they have been involved in, and explore how businesses plan to use those ideas. Businesses tell us that they particularly appreciate learning about the perspectives young people have on key issues, and they are able to use those views to future proof their own plans."
Almost 150 16-18 year olds applied for placements and funding from businesses ensures CforLP can work with all young people applying to provide vital development opportunities.
Prior to shortlisting for placements, all applicants gained opportunities to build connections with local host company partners through a range of virtual activities designed to deliver maximum benefit, in terms of personal development and acquiring new life skills.
Special training sessions and regular meetings for host companies enabled partners to share learning and best practice and helped them organise meaningful placements and get the best out of their students.
CforLP provided students with learning logs, and partners and students worked together to set goals and create projects to ensure everyone involved gets maximin benefit from the programme.
More than 2,000 young people have so far been involved with this unique Cumbrian development programme which is funded by businesses committed to investing in the county's young people.
Dream Placement was co-created by CforLP and businesses and educators nine years ago to address the brain drain out of Cumbria and to help young people see leadership in the workplace and understand the breadth of amazing opportunities across the County. It also aims to build confidence and self-belief, and supports young people to develop key leadership skills. The inclusive scheme extends high quality placements to everyone whereas often young people secure these opportunities only through family connections.
CforLP continues to support all the 2022 applicants through Cumbria Future Leaders – an active network to support 16-25 year olds – as they transition from education to further education or the workplace. CFL provides further opportunities for young people to build leadership skills and support networks through contact with other young people and business leaders.
The Your Future:Here brokerage developed with funding from Sellafield Ltd provides young people with a plug-in place to access opportunities and information.This active youth network has a steering group made of various youth boards and youth groups across Cumbria and now involves almost 1000 young people connecting and brokering links with employers and involving other groups for dialogue and discussions. To find out more visit www.dreamplacement.org.uk