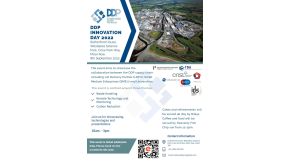 DDP Innovation Day - 8th September 2022 - Rutherford House, Atkins
Please join us for the 2nd Annual DDP Innovation Day on September 8th 2022 at Rutherford House, Atkins, Crow Park Way, Moor Row, CA24 3HY.
The DDP Innovation Day is all about showcasing the collaboration between the supply chain, SME's and Universities. This is a fantastic opportunity for networking with a chance to see all the latest innovative technologies.
There is over 25 companies in attendance from Manchester University, Spectis Robotics, Cairnhill Structures Limited, Forth Engineering, PSC, Shadow Robotics, Sellafield and many more!!
This event is ticketed, so please register your interest and book your tickets via the link below.
https://www.eventbrite.co.uk/e/ddp-innovation-day-2022-tickets-348726599647
If you wish to exhibit, please fill out: https://forms.office.com/r/eaqDjc3X2R
Timings: 10 am - 3pm
Coffee and Cake served all day by Rileys Coffee
Food served by Heavenly Fish & Chips
Look forward to seeing you there!