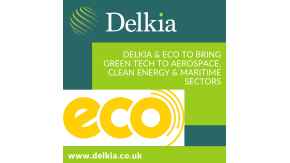 Delkia and Eco sign memorandum of understanding to bring green technologies to the aerospace, clean energy and maritime sectors
TWO pioneering businesses have signed a memorandum of understanding to bring game-changing innovations in sustainable technologies to aerospace, maritime, clean energy, and other industries.
Delkia, which specialises in offering safety-related and mission critical systems integration, engineering design and technical consultancy services, has signed a memorandum of understanding with sustainable solution innovators Eco.
Eco is one of the companies behind a world-first remote deployment of a LOOP system technology with fully integrated hydrogen separation which, in partnership with Cambridge-based climate tech company Levidian, is set to be launched in the UK in September.
Eco's deployment in Annan, Dumfries, and Galloway, will be the first remote implementation of LOOP technology in the UK. It is also a world-first deployment of a LOOP system with fully integrated hydrogen separation.
Eco is also a leader in dry ice cleaning, its multi-award winning operation delivers one of the most sustainable cleaning solutions available to a range of industries and provides a key component in the circular economy.
By keeping plants and equipment expertly maintained through a dry ice cleaning programme, different industries are able to keep their facilities and environments working efficiently for longer, reducing costly downtime, increasing productivity, and reducing the level of investment needed in new parts and equipment.
Speaking about the memorandum of understanding with Eco, Delkia's CEO Kurt Canfield, said:
"Delkia is driven by values of continuous improvement, client focus and ensuring safe and secure operations. The Eco collaboration was an easy choice for Delkia as their know-how, innovation, can-do approach, and net zero ambition technologies, mirrors well our own aspiration. Clean energy is synergistic with our specialist CE&I (Control, Electrical and Instrumentation) system integration capabilities."
Dick Monaghan, Business Development Director at Delkia said:
"Delkia is very excited to collaborate with, and represent, the Eco specialist cleaning and Levidian carbon mitigation technologies within the defence, nuclear and clean energy sectors. This is because we know the potential for process efficiencies, reduced plant down time, and methane feed gas conversion into clean hydrogen and valuable graphene commodities (enabling energy generation with zero carbon emission), could be game changing for our customers."
Mark Sisson, Director of Clean Energy at Delkia said:
"This collaboration will bring the best of Eco and Levidian technology and expertise to offer solutions to our clients."
Eddie Black, Managing Director of Eco, said:
"Working together with Delkia will give both businesses the speed and agility to help facilitate the uptake of technology inside heavily regulated industries. The skillsets of Delkia and Eco are a great match. We have the tech and the deliverables, Delkia have got the technical knowledge and the relationships. It makes total sense to join forces to speed up the adoption of new innovative green technologies. There's a real synergy between the two businesses. We are both singing from the same hymn sheet with the same purpose, goals, objectives, and ethos. This is about two like-minded companies coming together to collaborate and get things done. Delkia have been really easy to speak to and set this up because we share common goals. When you have the same common objective, it makes everything straightforward. We are very much looking forward to a really interesting collaboration which has the ability to make generational change and shape the jobs of the future that don't even exist yet."
Eco's use of the LOOP system technology will produce graphene which will be quality and consistency controlled. The LOOP10 device decarbonises methane-rich gas to deliver hydrogen and graphene on site. Following the initial deployment of the LOOP10 system at Eco's HQ at Annan, Dumfries and Galloway, Eco has committed to working with clients and partners to deploy more than 60 larger LOOP1000 units over the next five years. This will create decentralised hydrogen hubs to support industrial decarbonisation, enabling reduction of greenhouse gas emissions and
creating products essential to net zero ambitions. A single LOOP1000 reduces CO2 equivalent (CO2e) by approximately 2,400 tonnes per year.