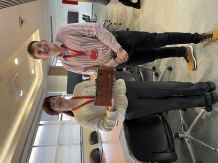 Dream Placement Alumni Secures Apprenticeship with NWS!
For many young people Dream Placement can set them on a path to their future career
Teddy Waning applied for Dream Placement in his final year at Caldew School in September 2021. After successfully being shortlisted Teddy attended the Selection event in 2021 and was interviewed and secured a placement with one of the host companies, Nuclear Waste Services. In his application, he stated:
"It will be so valuable to get direct information from employers and apprentices as I'm currently considering as many career options as possible. I want to use the Dream Placement to help me to make informed decisions on my future pathway."
Teddy spent the week in February Half Term 2022 with NWS and since his placement, he has represented NWS at several events and helped to support future placements, all of which has contributed to him securing a level 6 Nuclear Scientist Apprenticeship with them.
"After the Dream Placement in February 2022 Teddy represented NWS at several events and talked about the role we play in responsible radioactive waste management. Prior to this years' Dream Placement, he helped to prepare the agenda, drawing on his own experience, and attended the first day to meet and greet the new cohort of students and to bridge the gap between these younger students and NWS imparting valuable insights into his own experience and where it could lead.
Teddy proves the value of outreach and engagement, as prior to attending Dream Placement he was not aware of NWS, or the possibilities open to him." Tracy Badham, Social Responsibility Manager at Nuclear Waste Services
Teddy has since contacted us to say:
"I wanted to thank you all for all of your support over the last couple of years, I really feel you have been an integral part of my journey so far. If it wasn't for you and the Dream Placement, this wouldn't have happened, and I will always be grateful"
Congratulations Teddy!
Dream Placement is a leadership and development programme for all 16-18 year olds across Cumbria. It gives real world experiences of leadership and the workplace.
For businesses, it connects you to highly motivated, ambitious young Cumbrians enabling you to showcase the opportunities within your organisation.
Please register your interest if your organisation would like to support and connect to your future workforce by following the link below
http://www.dreamplacement.org....
Want to help more young people gain a Dream placement? You can provide sponsorship to fund an SME or charity to take part. The more companies that get involved, the more placements we have to offer young people here in Cumbria. Contact nicola.woolley@cforlp.org.uk