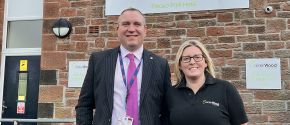 Helping the homeless in Cumbria build a better future
Recently, Securitas' charity single 'Ascending' raised over £15,000 to help the hungry and homeless in Birmingham. Feeling impelled to do more, 2022 will see them working closely with Calderwood House. This homeless hostel in Cumbria gives its residents a safe place to live and a 12-week recovery programme to help them build a new future.
Shaun Kennedy from Securitas said "Our first gesture of support was a £5,000 donation to update furniture and computer equipment within the 'Hub', a communal room within Calderwood House. Then, discovering that lack of transport is a big problem, we offered to lend the hostel a minibus for a year."
"This means we can take residents – and also some ex-residents – on day trips and outward-bound activities in the Lake District" says Rachel Holliday, Founder of Time to Change (West Cumbria) Project, the not-for profit Community Interest organisation that set up and runs Calderwood House. Having the minibus will also help the residents carry out the 'Give back to the community' element of their 12-week recovery programme, which gets them participating in outdoor activities such as gardening and litter-picking. "It's worthwhile work, but I know how cold it can get in Cumbria, so we've also purchased a stock of warm hats, gloves, jackets, and some high-vis outer layers for them to wear when out and about," adds Kennedy.