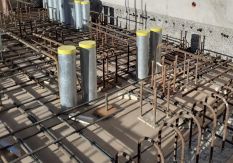 Kloeckner wins multi-million nuclear contract for Hinkley Point C
Kloeckner Metals UK is pleased to announce the award of a multi-million pound contract by BYLOR to produce embedment sleeves for the Hinkley Point C power station.
Part of the global Klöckner & Co Group, Kloeckner Metals UK is a leading multi-metals processing supplier in the UK. It has recently been certified with Fit 4 Nuclear status (F4N) which is a testament to its commitment to continuously improve operational standards in line with nuclear requirements.
This newly awarded contract will see Kloeckner Metals UK supply processed and coated embedment sleeves to Tier 1 Contractor BYLOR – a Laing O'Rourke and Bouygues TP joint venture. Two local South West businesses will assist Kloeckner Metals UK with the coating of the embedment sleeves.
Peter Whiting, CEO of Kloeckner Metals UK said: "BYLOR's decision to select Kloeckner as their supplier is a huge endorsement for our capabilities and management expertise. We are extremely excited to be part of such an important national project."
Kloeckner Metals UK would like to take this opportunity to thank Somerset Chamber of Commerce and SWMAS for their contribution in this project.
Downloads
Bylor Press Release May 2021
File size: 711.166 KB