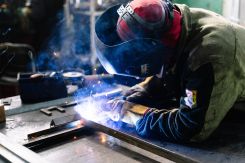 Lakes College launches Skills Bootcamps
Lakes College has launched a programme of 16-week Skills Bootcamps designed to help you gain the in-demand skills employers are looking for and fast-track to a job interview.
The bootcamps are part of the Government's Lifetime Skills Guarantee, helping everyone to gain skills for life.
The college has launched Level 3 bootcamps in welding, computer aided design, cyber essentials and robotics, and a Level 2 bootcamp in construction trades (joinery and brickwork).
The training is free if you meet certain criteria, which you can find out more about by downloading the relevant factsheet for the course you are interested in.
Employers can also access the training to build sector-specific skills in your workforce.
To learn more and register your interest, go to www.lcwc.ac.uk/skills-bootcamps.
Downloads
Construction Trades Bootcamp
File size: 295.678 KB
Automation Robotics Skills Bootcamp 1
File size: 218.19 KB
Skills For Life 1
File size: 357.03 KB
CAD Bootcamp
File size: 253.12 KB
Welding Skills Bootcamp
File size: 253.544 KB