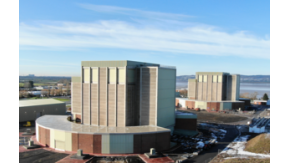 Magnox awards £53m clean-up contracts
Magnox is ready to start a major decommissioning project to clean-up and demolish four 'blower house' superstructures at Berkeley site.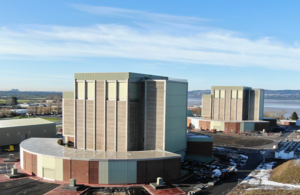 Magnox is ready to start a major decommissioning project to clean-up and demolish four 'blower house' superstructures that surround Berkeley site's two reactor buildings.
Ross McAllister, Magnox programme delivery director said: "This is one of the largest decommissioning projects that Berkeley site has seen for several years. It was originally planned for the 2070's so it is fantastic to bring that forward by five decades in our aim to deliver our mission better, faster and even safer.
"The blower houses circulated gas through the reactors to transfer heat into 310 tonne boilers to create steam to turn the turbines and generate electricity. The last of the 15 gigantic metal boilers was transported to Sweden for cleaning, smelting and recycling in 2013.
"The buildings will be emptied of the residual metallic low-level waste and undergo a full asbestos clean before being demolished. The work is expected to take eight years to complete and will be another major step forwards in sustainably decommissioning Berkeley site with our supply chain partners."
Following extensive procurement exercises, Altrad have been awarded a £30.8m contract for the design, asbestos removal, deplant, demolition and construction works in and around the blower houses and will be supported by other Celadon alliance companies including:
Veolia KDC Decommissioning Services
NSG Environmental
OBR Construction
Mammoet
Cavendish Nuclear
Kevin Williamson, Altrad's General Manager for Magnox, said: "We are delighted to have secured this major decommissioning contract at Berkeley which encompasses the retrieval and cleaning of the primary circuit ductwork and miscellaneous steelwork from the blower houses, prior to their demolition – including the processing of the spring hangers from the lubrication pits, which need to be de-energised and made safe before they can be cleaned."
Nuclear Decommissioning Authority operating company, Nuclear Waste Services (NWS) were awarded a £13.7m contract to manage 2,400 tonnes of metallic waste. Carly Sutton, WMS Consultant and Magnox Relationship Manager, NWS commented: "Through our metallic waste treatment service and working with our supply chain partner Augean we will establish a waste handling compound at Berkeley to provide a safe and secure undercover area where the metallic waste can be processed before it leaves the site for treatment.
"Removal of legacy metals from the Berkeley blower houses is significant not only in terms of achieving hazard reduction, but also good for environmental performance - as the high-quality steel removed will be treated, recycled and returned to the metal market for reuse."
Chris Hannon, Augean Head of Radioactive Waste Services, added: "Augean is incredibly excited to be part of one of the largest metallic waste treatment projects in the UK for over a decade. The metallic waste will be treated at Augean sites in the UK with over 95% of the metal being decontaminated to levels that allow recycling. We're working with a number of key subcontractors including NSG Environmental who will be leading the design of the waste handling compound. This project is a core part of Augean's strategy to deliver best environmental outcomes for our clients."