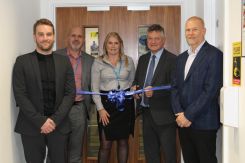 Mayor of Copeland opens Atkins' new client technology hub in Whitehaven
30 November 2021
Atkins, a member of the SNC-Lavalin group, has today launched its new digital technology hub at an opening ceremony in its Whitehaven office. The firm's new digital suite was opened by Mayor of Copeland, Mike Starkie, in front of an audience of Atkins/SNC-Lavalin staff and representatives from local businesses and business groups.
The new Digital Suite features state-of-the-art facilities to allow clients to develop ideas, visualise data and collaborate with global teams seamlessly and securely. The suite represents an investment of over £300,000 to bring the latest digital technologies to its West Lakes Science Park offices as part of a global Lava Labs programme to be launched in the new year. Technology in the suite includes a digital immersion room, digital design desks, a virtual reality area and an auditorium to host events and discussions.
Dave Wilson, Market Director, Atkins, said: "Whitehaven is a hub of innovation in nuclear energy and this digital suite will enable both Atkins and our clients in the region to connect seamlessly with global teams to collaborate on projects, technology and research plans. Digital technologies will play a huge part in shaping the nuclear industry's future, and we are extremely excited by this important investment in our Whitehaven offices and the opportunities it presents for our teams and clients."
Mike Starkie, Mayor of Copeland, said: "I'm absolutely delighted to join the Atkins team today at the unveiling of their new digital technology hub.
"Copeland is rapidly becoming a centre for digital excellence and it's fantastic to see largescale international companies investing locally, putting us at the forefront of emerging technologies and ensuring our local workforce can connect with colleagues around the world.
"There's never been a better time to invest in digital technology and harness the innovation this brings to the industry and the local area."
Atkins has had a presence in Whitehaven for over 30 years, with over 200 staff working from its Rutherford House offices in Westlakes Science & Technology Park. Over 3000 highly-skilled experts work across its global Nuclear & Power business on projects across the entire nuclear lifecycle, from design and delivery through its operating life, and final decommissioning.
Downloads
IMG 4288
File size: 1.266 MB
IMG 4294
File size: 1.112 MB
IMG 4312
File size: 1.042 MB
IMG 4318
File size: 1.064 MB
IMG 4319
File size: 1.085 MB