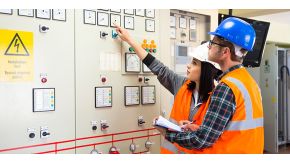 MTCS Launch High Voltage Electrical Safety Audits
BECBC member company MTCS, the globally recognised specialists in competence management and training for personnel involved in safety-critical activities in the energy sector, have launched a new High Voltage Electrical Safety Audit service.
Whilst global maritime and offshore energy continue to be the primary sectors that MTCS support through our portfolio of training courses and competence assessment and certification programmes, increasingly more clients from shore-based industries are seeking our specialist services.
More specifically, the requirements are focused around the safety of personnel operating, maintaining and/or testing high voltage equipment.
For clarity, we work to a definition of high voltage as a line voltage (phase-to-phase) in excess of 1KV AC or 1.5KV DC, however it is prudent to treat all voltages in excess of 50V AC with caution.
After delivering in-person training to a facilities maintenance and cleaning company and also to a large commercial printers in 2019, we introduced our High Voltage Awareness Training Course. This programme continues to be very successful with MTCS delivering this training either online, remotely via video link, or face-to-face with clients across the UK.
Training is just the start.
It will always be the position of MTCS that training and achievement of qualification(s) is always welcomed, but training and passing exams or initial one-off assessments does not guarantee future competence.
Competence is an ongoing, unwavering commitment which ensures that approved processes are followed.
At this point, and apologies for any repetition, we'll repeat the definition of competence as: "The ability to perform a task safely, efficiently, and in accordance with company/industry guidelines and procedures".
When it comes to working on or around high voltage equipment, these words take on even greater gravitas.
The Electricity at Work Regulations 1989

This Regulation came into force in April 1990 with a purpose "to prevent death or personal injury to any person from electrical causes in connection with work activities."
The Regulation applies to "all operational voltages to all electrical systems and equipment whenever manufactured, purchased, installed or taken into use, even if its manufacture or installation pre-dates the Regulations."
Further reading and guidance on these regulations can be found here.
The MTCS High Voltage Audit identifies areas where a company may make improvements to ensure they are compliant with the Electricity at Work Regulations 1989 legislation and relevant industry guidelines.

Ensuring that employees and contractors fully comprehend and are aware of their duties and responsibilities under the Regulations is imperative for any organisation.

For one of our mainland clients this has really resonated and they recently appointed MTCS to undertake a structured, formal audit on the company's processes and procedures in relation to high voltage testing.
After delivery of our work, subsequent positive feedback and further enquiries to this extent, MTCS have launched a dedicated Workplace High Voltage Electrical Safety Audit as a service to shore-based organisations.
What is a Workplace High Voltage Electrical Safety Audit?
Any organisation has a duty of care to ensure that their staff, contractors or anyone else present at their worksite is kept safe, and that any activities they undertake are in accordance with agreed and documented procedures.
This duty is underpinned by ensuring that approved systems and best practice processes discussed, demonstrated and understood during training are then fully implemented at the worksite.
The MTCS Workplace High Voltage Electrical Safety Audit looks in detail of how this is done, by all appropriate personnel and on every working day.
The Audit is a natural follow-on to the MTCS High Voltage Awareness Training (or even any third party or internal high voltage training) as it ensures that the concepts discussed on the training course are embedded into the daily activities of company personnel.
Part of the Audit is to take a 'snapshot' of safe working practice within a company's daily work, which subsequently becomes a documented benchmark for ongoing reference.
Most importantly, the Audit assists company managers in identifying areas to improve systems and procedures and, once approved, plan their implementation across the organisation.
Further to this, the MTCS High Voltage Audit looks at:
Documentation:

existing and historical documentation
helping identify the need for additional documentation
structure and purpose of any new documentation
review processes

High Voltage Testing Procedures
Risk Assessments
Toolbox Talks
Methods of Isolating High Voltage Equipment
Methods of Testing High Voltage Equipment
Use of Personal Protective Equipment (PPE)
Management of Electrical Safety
Delivery of High Voltage (Electrical Safety) Audit
Ideally, MTCS will deliver the High Voltage Audit in-person at the organisation's workplace(s). The duration of the Audit will be dependent upon the number of participants, location and nature of equipment in question.
Although there will be a high degree of commonality, the scope of each Audit will be bespoke to each client as established company best practices and work patterns will need to be taken into account.
Therefore, we ask that interested parties make an initial requirement with MTCS to discuss requirements in order for us to provide a quotation for consideration.
At present, the High Voltage Audit will be offered for face-to-face delivery to UK-based clients only. There are also options for remote delivery via online video calls.
_____________________________________________
MTCS are committed to working with companies across all industry sectors to help raise the standard of safety in the workplace; whether this is global maritime and subsea energy or companies working in unrelated operations on the mainland, the danger posed from improper activities on or around high voltage equipment is very real.
Should you wish to find out more about how MTCS can support your organisation on this front then please do get in touch and one of our team will be very happy to discuss the programme and your requirements in further detail.