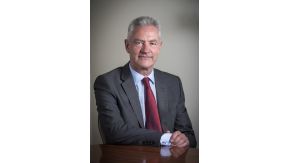 NDA group CEO recognised for exceptional contribution to nuclear sector
Yesterday (19 September 2023) the Royal Academy of Engineering elected NDA Group CEO, David Peattie, to its Fellowship in recognition of his exceptional contribution to the nuclear sector.
The Royal Academy of Engineering is the UK's national academy of engineering with an overarching strategic goal to harness the power of engineering to create a sustainable society and an inclusive economy for all.
The Fellowship recognises leading figures in the field of engineering and technology who have pioneered new innovations, lead progress in business or academia, provided high level advice to government, or promoted wider understanding of engineering and technology.
David Peattie FREng said:
I'm immensely proud and honoured to be asked to become a Fellow of the Royal Academy of Engineering. I share their passion to drive innovation and grow talent and develop skills for the future.

I look forward to representing the NDA group and utilising our world-leading expertise in nuclear decommissioning to inform and shape the Academy's work.
The new Fellows will be formally admitted to the Academy at a special ceremony in London on 28 November, when each Fellow will sign the roll book. In joining the Fellowship, they will lend their unique capabilities to achieving the Academy's overarching goals.
Professor Sir Jim McDonald FREng FRSE, President of the Royal Academy of Engineering, said:
Engineering is everywhere, but nowhere the same, and our new Fellows represent the great breadth and diversity of engineers who are striving to address some of the world's most complex challenges – benefiting society and the economy in the process. From next generation power networks and water systems to quantum computing and artificial intelligence, our new Fellows are shaping the future.

We live in an era of rapid change across our communities, our country, and of course our planet. Today we welcome to our Fellowship an inspiring group of people who are harnessing their creativity, courage and commitment to drive positive change in the world around us and we look forward to their contribution to our work.
To find out more about the Royal Academy of Engineering and it's Fellowship visit: Royal Academy of Engineering Fellowship (raeng.org.uk)