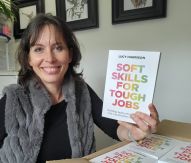 New book from BECBC member becomes instant bestseller
On the first day of launch, BECBC member Lucy Harrison's book, Soft Skills for Tough Jobs has become an instant bestseller on the Amazon Kindle charts. Following three years of writing, Lucy is delighted that her first book has been so well received.
"Seeing the printed copies for the first time has been a real thrill after five drafts and a lot of pain, sweat and a few tears," says Keswick-based learning and development specialist, Lucy. "What started out as a bit of a personal challenge developed into a huge manuscript, before I managed to hone it back down into the simple framework and practical toolkit that it is today. I've been encouraged to include elements of my own journey and experience, which makes today's launch a big day for me personally too."
Lucy has been helping organisations develop communication and collaboration for over 20 years. She brings together experiential learning, team facilitation and coaching and incorporated the Harrison Network in 2018. Today, the Harrison Network has clients in nuclear decommissioning, engineering and other heavy industries as well as the energy, academic and emergency services sectors.
"What's changed in those 20 years is that many of the routine jobs have been mechanised or automated. The ones that can't be replaced by machines are the complex ones, that rely on relationships between people, on creativity, on coping with uncertainty and they tend to be associated with complexity and constant change. These are the tough jobs that need good soft skills to be effective."
"I strongly believe that, when organisations have positive cultures, then the people in them go on to do awesome things, because they feel valued, motivated and inspired. I've seen these ideas work in the real world and the book is all about how to develop those relationships, using soft skills to create awesome cultures."
Soft Skills for Tough Jobs: building teams that work, one conversation at a time by Lucy Harrison is published by Practical Inspiration Publishing and available in paperback (£14.99) and online (Kindle £9.99).
"Every conversation counts when you are leading people," says Lucy. "Teams that work need to be built over time; unfortunately there is no magic wand. My approach is about doing more of what you do well, being your best more often and investing in your working relationships to make things better."
The Harrison Network builds teams that work. They believe that given the right culture, people and teams will thrive and do awesome things. They help people and teams improve relationships and change how they think, act and lead, in order to cultivate awesome cultures that perform, collaborate and innovate. They offer individual leadership coaching, team facilitation and training programmes to support organisational change.

Further background on the Harrison Network and the rest of the team is online at http://theharrisonnetwork.co.uk/.
Downloads
Bestseller
File size: 103.001 KB