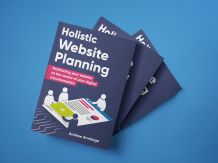 New book to help with website planning
Founder of Kendal-based digital marketing agency A Digital, Andrew Armitage has published his first book. Entitled Holistic Website Planning, the book is a guide for businesses to put their website at the centre of their digital transformation.
The need for businesses to improve the way they adopt digital technology has accelerated rapidly through the pandemic. With much of society closed down and huge swathes of the economy working from home, people were forced online for their shopping and everyday social interaction - a trend that is likely to continue for many even as countries around the world emerge from the crisis. Companies have invested in cloud-based tools that are easily accessible by remote teams and some business models have changed overnight. Both of these factors present new challenges and opportunities for company websites that in many cases are central to business performance.
The book focuses on an 8-step method that author Andrew Armitage has called 'Go the Distance'. Each step in the process (based on each letter in the word 'Distance') breaks down the importance of carefully planning your next website to ensure longevity and a more sustainable approach to building and managing websites.
Andrew says, 'Many people see their website as a marketing tool and a technology investment. While that's true, a website project can be so much more than that which is often overlooked or misunderstood. Holistic Website Planning means taking the time to consider people, process and your business environment to think ahead to how the website will be used, and how it can support the growth of your business.
The book is available now on Amazon in paperback and Kindle formats. For more information, please visit gothedistance.website.