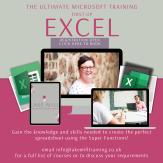 New Microsoft Office Training from Lake Mill Training
Unlock Your Productivity Potential with Our Comprehensive Microsoft Office Training Courses!
First up, 3 levels of Excel. (See the attached agenda for each.)
Bespoke or set curriculum, you choose what works for your business.
Contact us at info@lakemilltraining.co.uk for more information or to arrange a meeting to discuss your requirements.
Downloads
Intermediate excel 1
File size: 268.598 KB
Intro to excel 1
File size: 260.822 KB
Advanced excel 2
File size: 283.109 KB