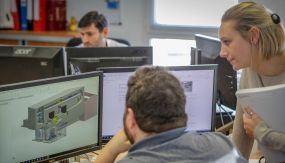 NUVIA secure a new framework with UKAEA to supply embedded engineering resource
NUVIA UK's Consulting and Technical Services business line has been awarded a place on the UKAEA embedded engineering resource framework. The four-year framework will supplement UKAEA project teams, supplying specialist resources to support the fusion mission. It will require personnel to support Conceptual Engineering, Product Design and Project Engineering services and span a range of engineering disciplines.
Nicky Edson, NUVIA's Director of Consulting and Technical Services, said: "This is an exciting opportunity for us to continue our involvement in this vital mission, using many aspects of our core engineering capability. We look forward to working closely with UKAEA over the coming years."
This framework further demonstrates our proven global expertise and experience across all areas of engineering, and NUVIA is delighted to secure this opportunity to support UKAEA.
NUVIA's global consulting expertise includes single disciplines and specialists. Or, by using the full breadth of our capability, we can offer a multi-disciplinary team of experts and the relevant tools and methodologies to develop strategies and solutions for complex problems across all stages of the nuclear life cycle.