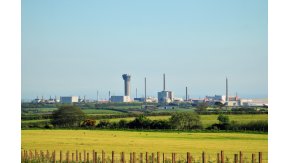 Orano wins multi-million-pound contract on PPP's RAP Analytical Equipment Development (AED) Project
Orano is pleased to announce that it has won one of the three bundles of instrumentation packages on the Sellafield Ltd Replacement Analytical Project (RAP) Analytical Equipment Development (AED) being delivered as part of the nuclear site's Programme and Project Partners (PPP) model. The PPP model was formed in 2019 to transform major project delivery at Sellafield and create a lasting legacy through long-term partnerships.
As successful bidder for bundle 6, 'Thermal Analysis-Focussed Modifications', Orano will play an important role on RAP, which will modify and refit the National Nuclear Laboratory's Central Laboratory at Sellafield to provide continued analytical services to the site. Sellafield's analytical services support almost every part of the site's operations. It was one of the first things done at Sellafield and is one of the largest such capabilities in the world. The scope of Orano's work will be to modify instrumentation for use in containment at the NNLCL facility, test and install, then commission and deliver training to operators, working in collaboration with supply chain partners.
This multi-million pound contract brings together Orano's teams from across the UK and its sites in France, combining the company's experience as an owner- operator with its international expertise in engineering and technical consultancy.
Stephane Compere, Chief Executive Officer of Orano UK said: 'The RAP contract is a clear demonstration of Orano's ability to marry the value of its international expertise with its four-decade long track record in the UK to offer an industry- leading service to our clients. We are delighted to have been successful on this critical project for Sellafield Ltd and to be in a position to demonstrate our capability in close collaboration with our client, the supply chain and other major project stakeholders.'