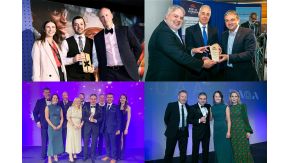 Peterson Energy Logistics Celebrates Safety Excellence
Peterson Energy Logistics is celebrating strong HSEQ performance having won several key industry awards over the last 12 months. The awards recognise the continued commitment to safe working practises demonstrated by all employees, which has enabled the company to maintain the highest levels of safety performance across its global operations.
Most recently, Peterson won the Operational Risk Management category of the Verdantix EHS Innovation Excellence Awards, for its achievements with Pro-Sapien EHS software on Microsoft 365.
Having previously dealt with risk assessments on a site-by-site basis, the company set out to simplify and enable a better understanding of risk and work instructions. All risk assessments were redeveloped to reduce volume and establish a systematic process within the Pro-Sapien platform, enabling all workers to perform their work to a safe and high standard.
In May, Peterson received the Port Health and Safety award at Port of Aberdeen's inaugural Health, Safety and Environment (HSE) Awards. This demonstrates Peterson's efforts in safety leadership, employee engagement, and implementing and achieving Goal Zero, which is the company's commitment to ensuring zero harm to people, zero harm to the environment and zero loss or damage to property or data.
Peterson was also successful in the Energy Transition category of The Offshore Achievement Awards earlier this year for implementing a range of sustainability initiatives, including the increased use of electric forklift trucks and vans to replace diesel alternatives, the introduction of HVO (hydrotreated vegetable oil) fuel, and the use of advanced technologies to achieve optimal planning in the supply chain. These initiatives saw Peterson reach carbon neutral status across its global operations at the end of 2022.