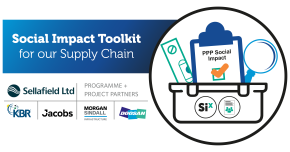 PPP Social Impact Toolkit for Suppliers launched
The Programme and Project Partners (PPP) model is changing the way major projects are delivered at Sellafield and creating a lasting legacy through long-term partnerships. To support this legacy, PPP's social impact team have launched a supply chain toolkit aimed at supporting businesses and SMEs to understand social impact. The new toolkit is helping supply chain partners to understand what social impact is, why it is important and how we embed it into our procurement process and support positive changes in the community.
As part of PPP, the supply chain will deliver billions of pounds in spend, we want this to have a significant positive impact on the economic, social and environmental wellbeing of our communities.

On PPP we're looking to see social impact come through in all tender bids, that means when bidding for contract opportunities we want to see how providers will maximise the social value opportunity of the contract. The toolkit provides more detail to help businesses understand how we can work together to enhance local employment opportunities, support the pandemic recovery, generate more value for money for UK taxpayers and deliver positive life changing effects for people in West Cumbria and Warrington.
Read more at https://www.gov.uk/government/publications/programme-and-project-partners-social-impact-toolkit.
Head of Social Impact at PPP Luke Richardson and Head of Development and Community at Sellafield Ltd Gary McKeating will join the BECBC Monthly Member Meeting on Wednesday 1 September to discuss the toolkit and provide an insight into PPP's social impact expectations which are aligned to Sellafield Ltd's social impact programme SiX - social impact, multiplied.