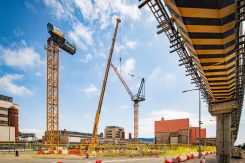 Programme and Project Partners announce winners of new multi-million pound HVAC contract
A pioneering new way of awarding long-term work packages at the Sellafield site has reached a major milestone, with the Programme and Project Partners (PPP) appointing its first key delivery partners.
Balfour Beatty Kilpatrick and EJ Parker Technical Services have been appointed to deliver the Heating, Ventilation, and Air Conditioning (HVAC), a framework agreement worth £150 to £250 million over the life of the programme.

The HVAC package is the first of several to be awarded by the partners over the coming months as part of a major framework spanning the next 18 years.

HVAC is used in all facilities to regulate temperature and humidity on the Sellafield site. Traditionally at Sellafield, HVAC procurement has been done on a project by project basis.

Through its multi-project procurement (MPP) approach, the programme and project partners seeks to work with specialist partners across the life of the programme for greater gains and efficiency.

The MPP approach encourages long-term collaboration throughout the supply chain, enhanced project delivery, and paves the way for greater economic and social impact in the West Cumbria region.