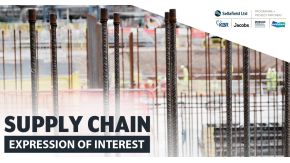 Programme and Project Partners (PPP) launch £249 million steelwork and cladding opportunity
The Programme and Project Partners at Sellafield are undertaking a procurement exercise to engage with steelwork and cladding Key Delivery Partners (KDPs) via a £249 million Multi Project Procurement (MPP) process.

Peter Hogg, PPP Head of Supply Chain, said:
"We are keen to hear from potential Key Delivery Partners to take part in an exciting long-term partnership to design and deliver steelwork and cladding of industrial buildings at the Sellafield site. This is the latest Multi Project Procurement process to be announced and we are looking forward to hearing from innovative organisations in these fields."
This package of work consists of Steelwork – known as KDP2 and External Envelope (or cladding) – known as KDP6.