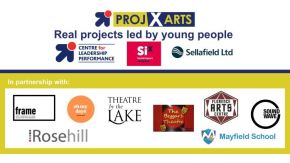 PROJX STUDENTS SHARE IDEAS ON INVOLVING MORE YOUNG PEOPLE IN LOCAL ARTS COMPANIES
Students from Mayfield School in Whitehaven are developing and sharing their ideas on how more young people can get involved in the arts in Cumbria by taking part in a ProjX Arts work awareness week.
The activity is delivered by the Centre for Leadership Performance and funded through Sellafield Ltd's SiX social impact programme which prioritises projects co-created through collaboration with the community and stakeholders from the business community.
During their work awareness week, the students, aged 15 to 17, will experience workplace behaviours and environments through visits to a local arts venues and meet a range of professionals to understand more about the arts and culture sector. They will explain to the students how their own businesses work, and the kind of job roles and skills required.
The CforLP's dedicated and experienced team will facilitate, and project manage the programme and will support students throughout to ensure they get the most from their ProjX experience.
The culmination of the activity will be a presentation created by the young people to reflect their experiences and ideas.
The aim is to help the students demonstrate leadership, build confidence, and develop key skills including communication, team working, and problem-solving, while learning about collaboration and innovation.
FRAME – the West Cumbria Cultural Education Partnership, will act as the 'client' setting the challenge for the students who will collaborate with Theatre by the Lake in Keswick, Florence Arts Centre in Egremont, Beggars Theatre in Millom, and Rosehill Theatre in Whitehaven, Soundwave in Whitehaven and Oh My Days! Productions. FRAME is a cultural education partnership of organisations and practitioners committed to improving the lives of children and young people in Allerdale and Copeland through high quality arts and culture.
ProjX is an innovative work awareness and leadership programme that enables young people to learn new skills and explore a wide range of interests whilst working collaboratively with business professionals and industry experts across West Cumbria, from large organisations to SMEs, business owners and micro businesses.
The simple application process is designed to help young people to overcome barriers, access opportunities and get a fresh vision of careers including those that might not appear to be obvious choices for them.
ProjX Arts is the latest addition to an expanding landscape for career exploration that enables young people to work on real world issues in real time. Previous topics have linked to live town centre regeneration initiatives and focused on current tourism challenges.
CforLP Executive Director Sarah Glass explains: "Many young people are still unaware of the hugely diverse range of career opportunities that exist here in Cumbria. ProjX is one of the innovative programmes designed to widen their experience and equip them with vital workplace skills. With the benefit of Sellafield SiX funding and the co-operation and collaboration of the county's businesses we can open their eyes to the multiverse of futures available to young people right here and now in Cumbria."