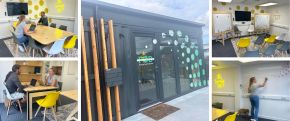 Realise HR Bring New Training Facility to Carlisle
Realise HR are proud to announce the opening of Cumbria's newest Training facility, 'The Learning Pod'. Designed with versatility in mind, Realise have created a bespoke, flexible space where people can deliver training or hire the pod out as a meeting facility.
Situated in North Carlisle at Kingmoor Park's Mod Village, The Learning Pod is not your traditional training facility. It represents a new way of learning with bespoke furniture, writable walls, multiple collaborative spaces which creates an engaging, captivating environment where people can grow, develop and drive innovation back in the workplace.
Realise HR , a multi-disciplinary HR and Recruitment Consultancy, has been a pioneer in the learning and training sector for several years. Their mission is to empower individuals and organisations with a training facility and tools necessary to excel in today's evolving world.
Claire Mclean, CEO at Realise says "The Learning Pod embodies our commitment to fostering continuous learning and development in Cumbria. Here at Realise, we're bringing a series of training courses such as Managing People Programmes and HR Business Partner courses to name a few, along with welcoming training providers to host their training programmes in The Learning Pod. We believe that investing in development is investing in one's future, and our facility is tailored to empower individuals and organisations on their learning journey. We can't wait to welcome you!"
Helen Askew, Head of Learning at Realise HR adds "As Head of Learning, this is a dream come true! Our passion is to work with other businesses to bring together a learning environment which is inclusive, informal and collaborative. I am incredibly proud to be part of this exciting new venture and bring a new approach to all things people training in Cumbria."

To learn more about our upcoming courses, please visit: https://realisehr.co.uk/events/
Or to book the Learning Pod, please visit: https://realisehr.co.uk/learni...