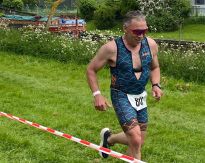 Silver at the European Quad for Acorn's Keith Longney
Keith Longney, founder of BECBC member company Acorn Coaching & Development, has made a successful return to quadrathlon racing with a second place in the Masters 60 classification at the European Championships competition in May.
The event, held in Brigg, Lincolnshire, and christened 'the Brigg Bomber' attracted a strong field from across Europe and, although blessed with spring sunshine, it was a bitterly freezing day!
For anyone unfamiliar with the format of the quadrathlon, it is a four discipline event which, similar to triathlon, includes open water swimming, cycling and running but with the inclusion of a fourth element, kayaking.
Keith has been competing in quadrathlon events for more than 25 years, with most notable success achieved at the World Championships in Ibiza in 1999 where he finished 5th, and two years later in Berlin where he finished as the top British athlete and 7th overall.
For this event, classified as a 'middle distance', the disciplines were 1.5k for the swim, a 7k kayak, a 30k cycle, followed by a 10k run.
Keith's finishing time was 3 hours and 29 seconds, which as well as 2nd in the Masters 60 classification was also good enough for 9th overall.
Performance Goals and End Goals
"Competing in events like this, I always look at my personal Performance Goals versus the End Goals." Adds Keith, "And as a starting point, I refer to John Whitmore's approach."
"The End Goal is what I, and one would hope, everyone is there for; to achieve the best result possible or even to win the event. It is entirely feasible, even at a stretch, although it may not always be possible and the result is something that you ultimately have no influence over. If the other competitor is simply stronger than you, if they are faster than you, then they will win even if you perform at your very best."
"All things being equal, the Performance Goal is an element over which everyone has control and is within our grasp. I myself am responsible for the input – the training and personal preparation – to achieve it."
"This preparation includes setting milestones and interim goals, and these inform progress and identify areas where modification or improvements are required to achieve the End Goal."
"Although I wasn't able to attain the desired End Goal, I'm happy that I achieved the Performance Goals I set myself. Over recent months I have trained and prepared myself well and during the event I had good transitions, my feeding was good and, likewise, my heart rate numbers."
"Of all the years I've been racing, that's what I always look at – have I performed at my best, given the best account of myself. So overall I had a really good race, it just wasn't quite enough on this occasion."
Keith is planning to do more quads over the coming months both here in the UK and also in Europe, so watch this space!
We would suggest there are parallels in End Goals and Performance Goals in both sporting endeavours and business. Do you have End Goals and Performance Goals in your business? If so, what do you do to better achieve them? And if not, how might you start to introduce them?