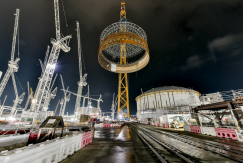 State-of-the-art technology from Bilfinger for British nuclear power plant Hinkley Point C
Industrial services provider Bilfinger is forging ahead with the extensive work being carried out for Hinkley Point C, a new nuclear power plant in Somerset, England.
The so-called Core Melt Stabilisation System (CMSS), a key safety-relevant component for the power plant currently under construction, has now been completed and delivered.
In the highly unlikely event of a core meltdown, this system, with its demanding engineering requirements, is designed to help restore the molten core to a secure condition after it has been released from the reactor pressure vessel.
Read more here: State-of-the-art technology from Bilfinger for British nuclear power plant Hinkley Point C - Bilfinger UK