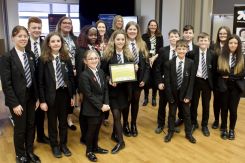 STUDENTS FROM WEST CUMBRIA SCHOOLS CELEBRATE LEADING SUSTAINABLE CHANGE WITH LOCAL BUSINESSES
Students from ten West Cumbrian schools celebrated their outstanding achievements in the Sellafield-funded 'Leading Change – Sustainability Campaign' which generated initiatives ranging from reducing plastic waste to recycling school uniforms.
The schools taking part were Cockermouth School, St. Joseph's Catholic High School, Keswick School, Lakes College, Mayfield School, St Benedict's Catholic High School, Netherhall School, West Lakes Academy, Whitehaven Academy and Workington Academy.
The 'Leading Change – Sustainability Campaign' activity was funded by the Sellafield Ltd SiX – Social Impact Multiplied – programme, partnering with the Centre for Leadership Performance to deliver the programme. Over 12 weeks the students worked with local business mentors to develop their ideas designed to address UN global sustainability goals.
Children from Workington Academy partnered with TuvSuv and Sellafield Ltd
The diverse range of ideas generated and developed by the young people included encouraging the use of reusable water bottles to cut plastic waste, helping eco-reclamation of waste land, better rubbish recycling, rewilding, wellness, biodiversity and community gardens, encouraging the community to reduce energy costs, and re-using school uniforms.
Gary McKeating Head of Community and Development at Sellafield Ltd explains: "These young people have risen to the challenge of the UN sustainability goals with support from their business mentors, and have produced an exciting and imaginative range of ideas to engage their local communities and stakeholders. The 'Leading Change – Sustainability Campaign' programme gives young people the chance to lead and have their ideas heard. It gives them hands-on experience of business processes and an insight into the work of local companies and the career roles they can offer."
Eirini Etoimou, Head of Corporate Sustainability & Supply Chain Development at Sellafield Ltd adds: "It is hopeful and so rewarding for all of us to witness this genuine enthusiasm of the next generation. We are happy to support this project, but we need to give the credit to all these young people; not only have they delivered substantial outcomes but we are confident that they will spread the message of applying sustainability principles more widely. Sustainability should not be over and above our life activities – it is our life. Well done to everyone involved!"
Leading Change Celebration Event Stuart McCourt Nathan Adair Sellafield Ltd
Students presented their plans to panels of business mentors to get funding, with participating schools receiving £250 seed funding to create their campaigns and a further £1500 to turn their ideas into reality
Sellafield Ltd provided business mentors to work with the students alongside companies including RC Civils, TUV SUD, Bechtel, NESMA, Mitie, Thomas Graham, North Lakes Hotel, and Torque2 & the Community Data Co-operative.
The programme aims to support young people to develop their leadership skills, have their voices heard on issues that matter most to them, and influence positive change in their local communities through the campaigns students shape based on local needs.
It puts sustainability at the heart of the curriculum, providing young people with opportunities to lead change in their local communities and make them more aware of the UN global sustainability goals.
Leading Change Celebration Event Approved Image
The 'Leading Change – Sustainability Campaign' programme also provides opportunities for employers to seek the views of young people on some of today's key challenges and gives them the chance to be part of the solutions.
A wide range of campaigns and ideas were developed by the students.
Whitehaven Academy's 'eco committee' presented plans to ensure they contribute to helping the environment and the land around their school.
Mayfield School is improving recycling facilities leading with the catchphrase "Mayfield is rubbish at recycling!"
St Joseph's School leavers' group is creating a community garden at the school designed to improve student well-being and mental health and bring the community together to enjoy wildlife, swap plants and help the environment.
Keswick School is creating a biodiversity garden within the school grounds.
Cockermouth School is encouraging the local community to embrace rewilding through planting and better use of outdoor spaces.
Netherhall School branded a campaign to design a reusable school water bottle"Don't be drastic say no to plastic (waste)".
Workington Academy's 'Wellbeing Warriors' pitched the idea to start a wellbeing garden in their school to improve the well-being and overall mental health of students.
St Benedict's School is cuting plastic waste by providing reusable water bottles for pupils.
Lakes College created an event for people to get advice from businesses on how to cut their energy costs
West Lakes Academy students have created a pre-loved uniform shop 'Preform' giving families the opportunity to reduce, reuse and recycle.
Karen Kelso Assistant Head at St Benedict's High School says: "We have found that due to Covid our young people have missed a lot of opportunities to be involved in activities which support wider engagement with businesses, employers and the community. The Leading Change Sustainability campaign project enabled our sixth form students to take part in a meaningful and impactful project, with defined outcomes and has given them a sense of responsibility within their school community"
The Leading Change concept was originally successfully piloted by the CforLP in Workington Academy with Transforming West Cumbria #CANDO funding.
Executive Director at the CforLP Sarah Glass adds: "The programme builds on the success of our other enterprise programmes, with partners who share our commitment to creating more opportunities for young people. At the CforLP we work to ensure leadership is seen as a quality we can all demonstrate, and young people have acknowledged that this programme has given them with leadership opportunities in their schools and helped them to nurture creative thinking and develop confidence, team work and resilience
"We know from our other enterprise programmes that this sort of activity can be a life-changing experience for young people, and we are committed to intergenerational life-long leadership learning from primary to retirement."
To learn more about the 'Leading Change – Sustainability Campaign' programme visit www.cforlp.org.uk