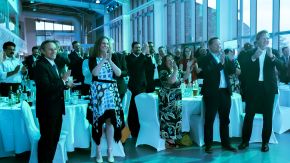 Team PPP Excellence Award winners revealed
More than 170 people from across Sellafield's Programme and Project Partners (PPP) and its supply chain attended the first ever Team PPP Excellence Awards on Thursday 12 May, at Energus in Lillyhall, to celebrate outstanding work from individuals, teams and supply chain partners.
14 awards were announced on the night and everyone in attendance really raised the roof with their cheers for all the nominees and winners.
Duncan Elliott, Head of PPP, said:
"It was great to come together to celebrate the efforts of all our nominees and winners. This year's awards were timed to coincide with PPP's third anniversary and provided a tremendous opportunity to reflect on the hard work of our people and our supply chain partners. I'm still off the scale with pride, all our nominees and winners should be very proud of their achievements, congratulations."
Winners on the evening
The Inclusion Award - Dave Clouting, Transformation Delivery Manager.
Individual Zero Harm Performance - Jonny Robinson, Construction Line of Sight Coordinator on PPP's Replacement Analytical Project (RAP).
Team Zero Harm Performance - The Heating, Ventilation & Air Conditioning Design Team for the Box Encapsulation Plant Product Store 2 (BEPPS2) and the Lightly Shielded Store 1 (LSS1) projects.
The Team of the Year Award - PPP Supply Chain Team.

Best Innovation Awards:
Gold Award - Puneet Kalia, Programme Integration Manager.
Silver Award - Phil Greyling, P3M Manager.
Special Recognition Award - Will Clothier, Environment Specialist.
The Rising Star Award - Aidan Sweeney, Quantity Surveyor on PPP's Replacement Analytical Project (RAP).
Developing the Next Generation - Barry Tuzio, Engineer.
Unsung Hero - Dawn Keenan, Supply Chain Coordinator.
Social Impact Award - Kier.
Exceptional Colleague of the Year - Jenefer Alam, Benefits Realisation Manager.
The Collaboration Award - Puneet Kalia, Programme Integration Manager.
Supply Chain Award - West Cumberland Engineering Ltd.
The PPP model was mobilised in May 2019 with the purpose of transforming major project delivery at the Sellafield nuclear site. The partnership brings together KBR, Jacobs, Morgan Sindall Infrastructure, Doosan Babcock and Sellafield Ltd to deliver a 20-year pipeline of major infrastructure projects to support the decommissioning of Sellafield and to create a clean and safe environment for future generations.