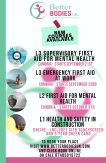 Upcoming Training Courses and Update
Current Training Courses and Business Update:
We are delivering at our new state of the art centre in Workington both the L2 First Aid for Mental Health and the L3 Supervisory First Aid for Mental Health. Both qualifications are accredited and regulated Ofqual qualifications.
We are also delivering in-house the L3 Emergency First Aid at Work which can be upgraded to the full L3 First Aid at Work if required.
Finally, we have online delivery of the L1 Health and Safety in a Construction Environment which includes the CITB touchscreen test and 5-year green card.
If there is anything that you would like to book or are interested in a bespoke course to suit your business and staff, then please don't hesitate to contact us to discuss further.
We continue to work with Inspira for funded training programmes and upcoming have delivery of the following courses if you know of any unemployed learners that you think would benefit:-
L2 Customer Service and Professional Development (part of a programme for new business start-ups)
L1 Health and Safety in Construction (including CITB touchscreen and 5-year green card)
L3 Education and Training
Finally, we are in the process of opening a community interest company as part of the Better Bodies UK branding. The CIC will provide everything that Better Bodies UK is able to deliver but will 'hopefully' be able to have gained funding for health and well-being qualifications for both the community and other CIC/Charities/Partnerships in the area to support other great initiatives.
Thank you so much for taking the time to read and if there is anyway at all we can support you please email claire@betterbodiesuk.com or ring us on 07485 015722.
Downloads
Current Courses
File size: 4.477 MB