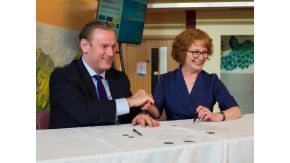 BECBC responds to the Rolls Royce SMR call for areas to compete for a factory placement.
As Rolls Royce-SMR puts out a call to areas in England and Wales to compete for the placement of the main factory required for modular construction of the Small Modular Reactors (SMRs) what does this mean for Cumbria with its strong nuclear heritage and supply chain companies knowledgeable about the needs of the nuclear industry?
Cumbria has been having a conversation with Rolls Royce SMR for some time, as well as engagement by the Cumbria Local Enterprise Partnership (LEP) reflecting ongoing conversations with other areas RR-SMR have engaged with local supply chain companies giving an overview of where the project is and how supply chain could become involved at the January BECBC meeting. Prior to that RR-SMR were the first signatories to the Invest in Cumbria Alliance (IiCA) Charter, committing to working with the local community to maximise the social value of an investment if one was made in Cumbria. But how likely is that?
Competition for this factory will be hard fought. The main social value and investment will come, not with the siting of a SMR, but with the factories. This one alone potentially delivers up to 200 direct jobs, plus many others in the supply chain, and up to £200million of investment. While this is only the first of three factories it will be the largest covering the same space as three football pitches and many areas of England and Wales will see the benefit of enticing it to their corner of the world.
So what can Cumbria offer? As an area we can sometimes have a habit of talking ourselves down and there are some valuable USP's for Cumbria that we can shout about:
World class training facilities at local colleges geared for engineering and construction-when I show people the Skills Centre and Civil Engineering centre (currently being constructed) at Lakes College then add in the National College for Nuclear, Energy Coast UTC and GEN2 facilities they are amazed that what they saw as a remote area has such fantastic training facilities available.
Understanding of Social Value and how we leverage investment to drive wider value and real change to people's lives-something investors, national government included, are focussing on. This is where the work of the IiCA can really deliver. Alongside that we have forward thinking developers that are leaders in sustainability and ESG.
Our people and supply chain have for decades been manufacturing the highest integrity nuclear qualified equipment-they understand what is needed.
Transport-now we talk ourselves down when it comes to our transport links and yes there are some parts of Cumbria where it is an issue but Carlisle is perfectly placed on the M6 corridor and the Port of Workington provides sea shipment options.
Academic links-with the University of Cumbria, University of Manchester and UCLan all with physical buildings in Cumbria and the University of Lancaster delivering remotely we have access to academic expertise that can help drive innovation and growth.
A community which understands nuclear power and the potential renewable additions to nuclear power-this shouldn't be underestimated.
With Rolls Royce-SMR saying "development and growth of a UK nuclear manufacturing base is core to the deployment of Rolls-Royce SMRs" the presence of a nuclear manufacturing supply chain here in Cumbria with existing export capability which is ripe for expansion and growth must be a selling point.
Last but not least-the piece that we at BECBC bring to the table-an environment for supply chain companies to collaborate and do business together, we have the most established nuclear cluster in the UK bringing together companies across all sizes and sectors to deliver for customers.
But we can't sit and wait for investment to come to us and we can't expect that investment will automatically bring the maximum social value. We have to be at the table, part of the conversation and shouting about what we have to offer. Will you shout with us?