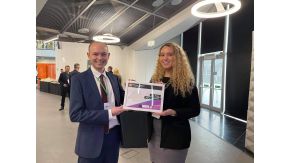 Innova Learning Ltd - Highly Commended for the Business of Science Innovation Award 2021
On the 7th October 2021, Innova Learning attended the Business of Science Conference in Birmingham. This conference, sponsored by BASF, was attended by members of industry, business, and academia, where the relationship between science, innovation, business, and skills were discussed.
The importance of sustainability was a key concept, and this was referenced throughout the day as science and business seek to develop in an innovative but also sustainable manner.
Talks involved the research and development on the fascinating material graphene, the meaning and future of Industry 5.0, and the commercial future for science and innovation. All talks were highly engaging, and it was exciting to learn about how industry, business and academia were driving the commercialisation of innovation whilst operating in a responsible and sustainable manner.
Innova Learning were invited to attend this conference after we were shortlisted for the Business of Science Innovation Award in the 18+ category. All finalists were given an opportunity to present their ideas via a poster session, where we presented our business and product to attendees, received feedback, and answered questions.
The feedback we obtained during the session was extremely positive and very helpful. It was also exciting to talk to people who are as passionate as we are about the importance of STEM learning and promoting inclusion and diversity within STEM.
At the end of the conference, we won Highly Commended for the Business of Science Innovation Award, as well as funding to help us develop our business in the future!
Many thanks to Steve Bennett and the Business of Science for inviting us, this was an excellent opportunity to connect with likeminded individuals and showcase our business to a wider audience. We hope to attend many more conferences like this one in the future!
If you would like to read more about Innova Learning and how you can support our venture, please visit our website.
Michael Walters
On behalf of Innova Learning Ltd